NEW DELHI: Royal Challengers
Bangalore
(
RCB
) have over the years had star-studded squads. They have had batters who could fire on all cylinders, bowlers who could put the brakes on run rates and bamboozle batsmen.
But despite having big impact players across all 15 completed IPL seasons, RCB haven't managed to clinch the title since the tournament's inception in 2008.
They have played three IPL finals – 2009 (lost to Deccan Chargers), 2011 (lost to Chennai Super Kings) and 2016 (lost to Sunrisers Hyderabad) but failed to cross the finish line.
This season as well, RCB find themselves at the bottom of the points table after their first 5 games, of which they have lost 3. Their biggest problem, across all seasons, has been consistency – maintaining a long winning streak.
Last season, RCB finished 4th on the points table after the league stage. They won the Eliminator vs LSG, but then they lost Qualifier 2 vs RR.
RCB's young batsman Mahipal Lomror is confident that the team will have a better run this season.
Lomror, who was bought by the Delhi Daredevils (now Delhi Capitals) for Rs 10 lakh in the IPL 2016 auction, moved to Rajasthan Royals in the IPL 2018 auction for Rs. 20 lakh.
The 23-year-old played 11 matches for Rajasthan Royals between 2018 and 2021 before RCB bought the youngster for Rs 95 lakh in the IPL 2022 Auction.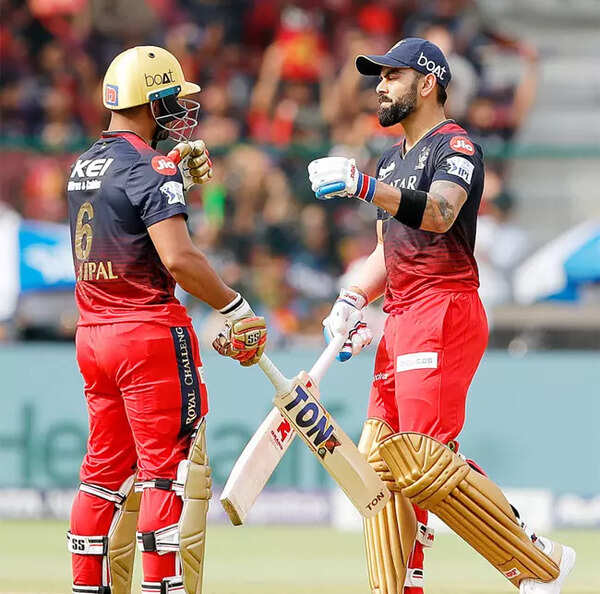 Image credit: BCCI/IPL
The left-handed hard-hitting batsman played 7 matches in RCB colours last season, scoring 86 runs.
Lomror, who hails from Nagaur, Rajasthan, has played three matches with RCB so far this season but hasn't set the stage on fire, scoring 26 runs. In the match vs Delhi Capitals, Lomror came in to bat at number three and whacked two sixes in his 18-ball 26-run knock.
Lomror, who was part of India's Under-19 World Cup squad in 2016 that also had the likes of Rishabh Pant, Ishan Kishan, Sarafaraz Khan, Khaleel Ahmed, and Washington Sundar, spoke to TimesofIndia.com in an exclusive interview in January this year and discussed RCB's chances of clinching their maiden IPL title this year, learning from Virat Kohli and Faf du Plessis, sharing net sessions with Virat and much more…
RCB have made it to the final thrice earlier but signed off as 'runners up' on all three occasions. How would you rate RCB's title chances this year?
Whenever we (RCB) go to the middle, we go in with a winning mindset. Every season, we go in with the same mindset. We have made it to the final thrice but unfortunately, the results didn't go in our favour. This year too our main aim is to win the maiden title. I am sure Faf will take RCB to the title win this year. We want to take it one match at a time.
You are known as 'junior Gayle' in the team. What's the story behind that nickname?
I was playing in an Under-14 tournament in Mumbai. In the final, I scored 50-odd runs off 17 or 18 balls. Chandrakant Pandit sir was the director of the Rajasthan Cricket Association (RCA) at that time. He came and hugged me in front of everyone. He said 'ye to humara chota gayle hai' (he is our junior Gayle). After that, my friends, teammates, seniors, and in fact coaches also started calling me 'junior Gayle'. In fact at RCB, players call me 'junior Gayle' too.
You played 11 matches in 4 seasons with RR before being snapped by RCB in 2022. What has the IPL experience overall been like for you?
I didn't get a chance when I was with Delhi Daredevils (now Delhi Capitals). My best moment was when I got my IPL debut cap at the Rajasthan Royals. That was a memorable moment for me. I got the cap from Shane Warne sir. I don't think anyone gave me as much confidence as Shane Warne did. He was an incredible person with an abundance of experience. You could learn a lot while talking to him. Getting a cap from him was the best moment of my cricketing career. I injured my finger ahead of my debut. He used to come into my room and ask about my injury. He used to ask if I was able to bowl at least a couple of overs. He gave me a lot of tips and they are helping me today as well. The next day, I went to him and said 'Sir, I am fit and feeling much better'. He gave me the chance in the very next match of RR. He backed my skills. He taught me some cricketing tricks and those are doing wonders for me today.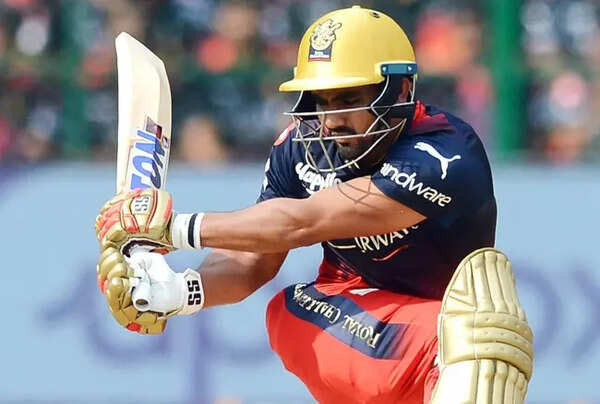 Mahipal Lomror (BCCI/IPL Photo)
You have spoken earlier about Virat Kohli. What role has Virat played in your career?
I am really enjoying my time at RCB. I have got consistent opportunities at RCB. The presence of Virat bhai and Faf can teach you a lot. I observe them and learn from those things. I admire Virat bhai's work ethic and the way he worships this game. He has been an incredible leader and a champion batter. The best thing about Virat bhai is that he will ask you to express yourself on the field. When a youngster plays in the IPL, he targets his next step – representing the Indian team. IPL is a platform to prepare for that step (playing for India) both physically and mentally. I have learnt a lot from Virat bhai. Sometimes, I go to him with several questions, and he answers them and clears my confusion in minutes. 'Khul ke khel (Play freely) and be yourself' – that's what Virat bhai always says to me. He is the one who gives me the confidence and liberty to express myself on the field.
You generally share net sessions with Faf du Plessis and Virat Kohli…
I just love to learn from both of them. I try to gather as much knowledge from these two stalwarts as possible. Faf speaks to all of us ahead of every match. He says put the team first. He says analyse the situation and the zone the team is in at that time and your duty is to take the team out of that zone (if the team is in trouble). He says if you are at the crease, it's your responsibility to take the team forward. He said – you don't have to think that Virat, Faf, and Maxi are there, it's you and it's your responsibility towards the team, you must make plans and execute those right there. He always emphasises on players taking onus.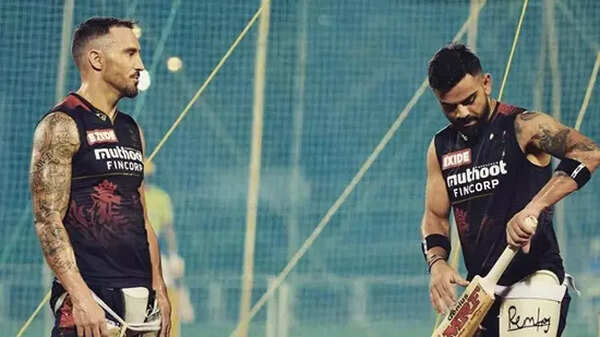 Image credit: BCCI/IPL
I speak with Virat bhai during the net sessions. When he bats, I just observe. He trains for hours. You just can't match his energy level. It's a privilege to share the net sessions and field with him. He always says, 'domestic cricket me jitna acha kar sakta hai utna acha kar' (he says, perform as well as possible in domestic cricket). He gave me a lot of tips and those helped me in this domestic season and IPL too.
You were part of the Under-19 team which finished as runners-up in 2016. Many cricketers from the Under-19 World Cups have gone on to represent the Indian senior team. Ishan Kishan, Rishabh Pant, Washington Sundar, Avesh Khan, and Khaleel Ahmed are examples from that 2016 squad. Talk to us about your India dreams…
It is every player's dream to represent the national team someday. I am following the process and trying my best. I have performed well in the domestic circuit, but you need to have extraordinary performances to get into the India team. To be very honest, I have not had any extraordinary performance in domestic cricket yet. I am working on my skills. I am working hard towards my goal – playing for Team India.