BENGALURU: When Glenn Maxwell miscued a slog sweep off Maheesh Theekshana and the delivery went soaring into the night sky,
Mahendra Singh Dhoni
got under it and held on in spite of unwarranted interference from the Spidercam dangling above.
Dhoni later went about his business but not before he had had a word with the umpire about the obstruction. Even Royal Challengers Bangalore skipper Faf du Plessis on a couple of occasions complained about the shadow from the camera cables while he was batting, even pulling out on a few occasions.
Monday night at the M Chinnaswamy stadium again raised the question about the hindrance caused by technology.
Last year, during the Boxing Day Test against Australia, South African pacer Anrich Nortje was knocked down and hit on the left shoulder and elbow by the camera. During the first ODI against Australia in Visakhapatnam last month, Indian skipper Rohit Sharma made his displeasure known while batting after the camera came in his line of vision.
Dwelling on the interference, Devon Conway, Chennai Super Kings' star against RCB, said, "I think it has happened a couple of times and can obviously put a fielder off."
The New Zealander pointed out that one needs to draw a line between technology on the field and its usage.
"It is a bit testing for us. It is nice to have technology to show different angles, but it cannot interfere with the game," he added.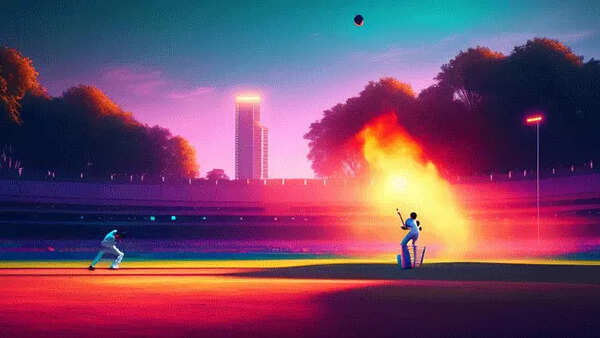 (AI image)