NEW DELHI: Star opener Devon Conway said
Chennai Super Kings
have been aiming for 200-plus strike rates to put up imposing totals on the board. The four-time champions
CSK
scored a mammoth 226 for 6 against Royal Challengers Bangalore (RCB) at the Chinnaswamy Stadium and the Yellow Brigade won the match by eight runs.
Conway (83), Ajinkya Rahane and Shivam Dube played a pivotal role with the bat, scoring at a strike rate of more than 180 to help CSK post the big total.
"Tonight (Monday) was a really good surface to bat on, so for us to get those big totals it's about trying to create a strike rate of around 200-plus," said Conway at the post-match press conference.
The New Zealander said that though he was some way off the 200-plus strike rate, he was happy Rahane (37 runs, 185 strike rate), Dube (52, 192.59), Ambati Rayudu (14, 233.33) and Moeen Ali (19 not out, 211.11), had brilliant strike rates. 01:52
Royal Challengers Bangalore vs Chennai Super Kings IPL 2023 Highlights: CSK beat RCB by 8 runs
"I didn't manage to achieve that (200-plus rate) but some of the work done by the other players, like Ajinkya, Dube, Rayudu and Moeen Ali in the end, they all chipped in with really good strike rates and that's what got us to a very competitive total.
1/15
IPL 2023: CSK survive Du Plessis-Maxwell storm to beat RCB
"That's probably the method on this kind of wicket where it's really good to bat," added Conway, who scored at a strike rate of 184.44.
The 31-year-old left-hand batter had a lot of appreciation for skipper Mahendra Singh Dhoni for holding on to the two skiers behind the stumps to dismiss the two most dangerous batters Du Plessis and Maxwell.
The New Zealander said he was confident someone like Dhoni would never fluff those skiers — one of the toughest catches to take in night games.
"Those (Faf and Maxwell) were very tough catches because it is not easy to catch balls that go straight up in the dark night. I was very lucky to have MS (Dhoni) with the gloves on because if there is any person you want to take those tough chances, he's probably your guy. it was good for us (to) break the momentum of the innings and ultimately helped us win the match," added Conway.
Conway indicated CSK players could have come under pressure while defending the big total, which probably led them to drop a couple of catches.
"No one tries to drop catches on purpose, these things happen. I don't know if there was pressure on the fielders or what it was. Thankfully, it wasn't costly for us but we've got to keep practicing under pressure, take those half opportunities. Thankfully, we bowled well and that helped repair (the damage from) those dropped catches.
"Before we went on to the field, MS said we are going to be put under pressure at times. The momentum that they (RCB) had was brilliant. Faf and Glenn put us under pressure but we always felt that by having 200-plus on the board, if we get a couple of wickets we could always bounce back.
"So, for our bowlers it was clear — be patient and when the opportunity comes you just take them with both hands."
SPIDER CAM AN ISSUE
Conway indicated it wasn't easy for players to go about their job seamlessly with the shadow of the hovering spider cam causing problems. He added that things shouldn't come to a point where technology interferes with the game.
"It (interference) happened a couple of times where the ball had got very close to the spider cam as well as the wires, that can obviously put a fielder off. I thing Faf stepped away a couple of times because the shadows of the spider cam was in his way. It's obviously a little bit testing for guys.
"It's nice to have that technology to show different angles of the game but there come a point where (it) can't get too involved and interfere with the game. MS (Dhoni) was probably trying to speak to the umpires, saying 'don't get too close to the action and try to avoid too much (of what's) going on,"said Conway.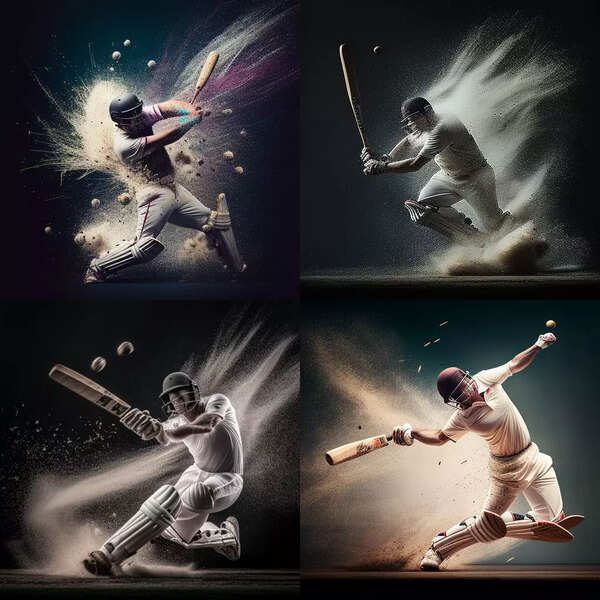 PRAISE FOR PATHIRANA
Conway praised young Sri Lankan bowler Matheesha Pathirana's efforts in winning the match for CSK.
Pathirana's superb bowling in the 18th and 20th overs — he dismissed Shahbaz Ahmed (18th over) and gave away just 10 runs in the last over besides taking the wicket of SS Prabhudessai — helped CSK stall RCB's charge.
"Yes, I think a special effort from Matheesha to come into the team and a first game for him this year in the IPL and execute (his plan) under pressure like that. It was brilliant.
"He is very unorthodox and I personally haven't faced a ball from him, haven't faced him at the nets. It was very crucial to have him with us tonight and execute his plans that ultimately got us the win."
(With inputs from PTI)